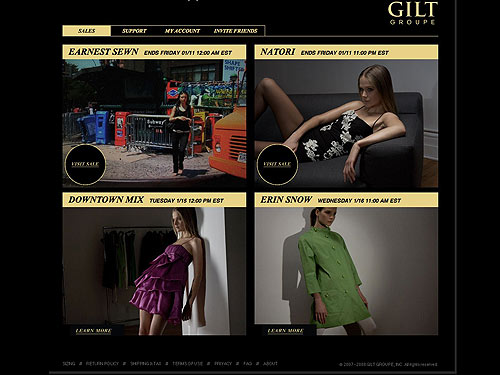 I wish I could quit you.
Two years ago, I was invited by my fellow fashion devotee to a website that further fuels the shopping addict inside of me. Gilt.com is a pure play retail website that sells high-end designer clothing and luxury labels at "sample sale" prices (up to 70% of retail price). The site is invite-only; current members invite friends by sending them e-vites with a link to Gilt.com to activate their membership. Members receive emails every Monday summarizing the sales that will occur throughout the week, and what dates and times they will be commencing. The company works with over 200 women's, men's, children's and home brands and labels, and each day features a couple brands' merchandise for sale for a limited time of 36 hours, or occasionally, until the merchandise runs out. Members are able to purchase up to 10 items at a time, and returns are given store credit, much like any other store's policies, and if you ship it outside of New York State there is no sales tax! I digress on the minute details of Gilt.com that make me all warm and fuzzy inside, but anyway...
The formal business name of the company is Gilt Groupe, which was founded by college friends Alexis Maybank, whose past accomplishments include serving as General Manager and business Development Director for AOL's ecommerce businesses, and also was one of the driving forces behing eBay's expansion; and Alexandra Wilkis Wilson, who has worked for multiple luxury brands including Bulgari and Louis Vuitton. Based in the Chelsea neighborhood of New York City, Gilt Groupe, with the help of venture capitalist firm Matrix Partners, launched Gilt.com in 2007, and has had and continues to see a steady increase in membership and publicity since its inception.
Ignore the blue line: Ruelala.com is another luxury discount retail website that is on the rise--but that is neither here nor there.
Gilt Groupe has capitalized on a concept that is somewhat lacking in the webosphere; luxury and designer companies have steered away from selling merchandise online due to the possibility of destroying the quintessential allure of luxury goods; exclusivity. However, by not utilizing the online market, luxury brands were missing a grand opportunity to rid them of their less successful merchandise inventory. As told to
Forbes.com
, Maybank explains, "Existing online channels weren't protective of the fashion and luxury brands, resulting in a bit of a heartburn for those companies."
Gilt.com strategically accomplished this uncharted e-territory by using business models that maintain the prestige of the brands while allowing consumers to purchase luxury items at sample sale prices. Gilt.com uses both subscription and virtual merchant business models. Through using the subscription business model, more particularly invitation-only, allows the website to have exclusivity by using established members to recruit people whom they think will appreciate the website. Therefore, the membership community itself expands the consumer base with people fitting the target demographic the company looks to reach, meanwhile spreading word-of-mouth through the "right crowds" about the website and increasing people's desire to become a part of it.
Gilt Groupe's use of the virtual merchant model is also quite strategic and plays upon the company's strengths; the established reputations of the people that make up Gilt Groupe make for a prime breeding ground of building strong, loyal relationships with luxury companies and designers and they're willingness to sell their inventory directly to Gilt Groupe without revenue sharing that would be present in an affiliate model. Gilt Groupe has also defeated the notion that with online retailing comes the death of luxury boutiques. Retail anaylist Marshal Cohen reassures that "ten years ago they said the Internet would replace traditional brick-and-mortar. It didn't quite turn out that way, and both have learned to coexist." It hasn't fazed designers and companies to want to do business with Gilt Groupe; co-founder Wilkis Wilson admits that "I have so many brands banging down our door that I have to say no."
In terms of measuring Gilt Groupe's performance, there are two very vital elements that create Gilt Groupe's success; membership rate, and the amount of revenue. When looking at the unique visitors chart shown above, it seems as if although Gilt.com membership is increasing, other similar websites to jump on the bandwagon are seeing higher numbers. This is where I see the whole "luxury" marketing and business tactics as a hinderance to success in numbers; the whole idea of exclusivity through their lack of use of traditional advertising and focusing more on word-of-Chanel lip gloss shelacked mouth may be a cause in their lagging behind their competitors in terms of accumulating memberships. However, the amount of revenue that the company is accumulating from retail is the true telling of the success of the actual purpose of the website: selling goods. Window shopping doesn't count in the real world, where it's "all about the Benjamins."
=more Benjamins than I will be making as a college graduate next year.